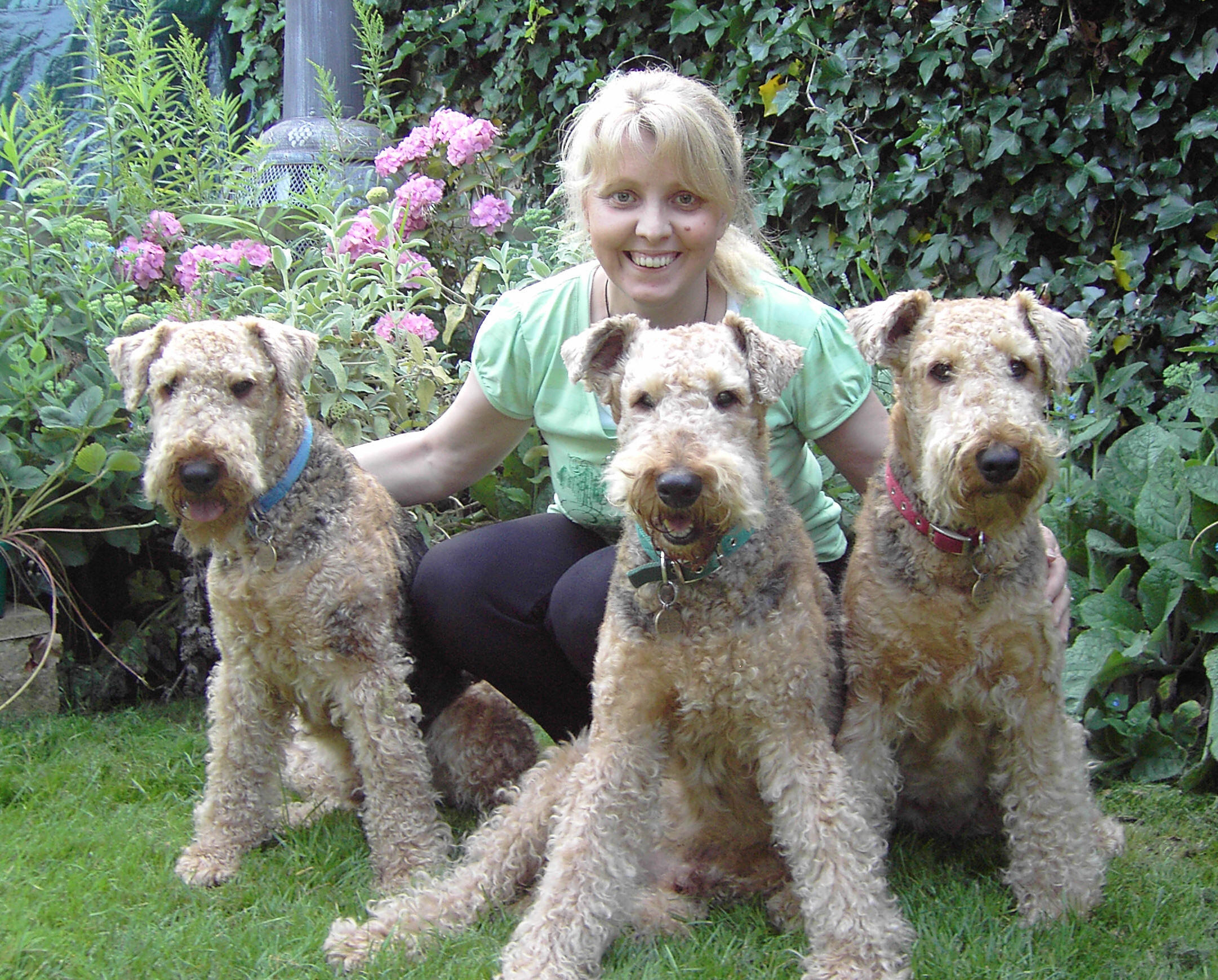 Woof Board
Leave us a message and it'll be displayed here!!
WOOF!
Hi, this are Emma (my Airedale daughter) and Susanne Kimmel from Berlin Germany. I´m visiting your site sometimes just to be reassured, that I´m not a little strange baking a saussage pie for my dogs birthday. I.ve been living with Airedales for the last 40 years (grew up with them, raised my children with the help of them) and can´t think of a life without them. Your website always touches my heart, makes me laugh and today cry when I read about dear Basil being in dog heaven now. I feel so sorry for you. He will be remembered here in Berlin, because my sons always told me that he must be related with "Charlie", the airedale they grew up with. We are often talking about your dogs and you, please carry on with news and clips and photographs.
Greetings from Berlin and Wuff-Wuff-Woaaaaa (german airedalish) from Emma. Take care
Susanne and family
WOOF!
Dearest Basil, Sybil and Hector,

Greetings from Prineville, Oregon USA! My name is Ronald's Jeraldine Rose, but my parents just call me Rose. I will be 4 in September and I'm a very big girl (28" at the shoulder).
My mom came across your site on youtube and stated you might just be more entertaining than me!
I am also very photogenic, but put my paw down at being dressed up. I live with two 'normal' dogs, a border collie, a mixed breed and one cat!!! Can you believe that?!? That little bugger is very lucky he was in my home when I first came here, or else . . . Well, you know!
I am attaching some pictures of me romping in the snow. I would attach some pictures of my rabbit hunting skills, but my mom thinks they are too graphic! Geez, humans!
My mom looks forward to dropping by your site often and she's quite happy she found you.

Big Airedale Hugs to you all,
Rose and her Mom, Colette

WOOF!
Hello
Just viewed your site and watched your singing video. My 9 month old Airedale couldn't quite make it out and was looking at the back of the laptop for help. I don't think he will taking up singing, he much prefers being a bog weed!!!!
Its great to see other Airedale's in the country, so far we have only met 2 on our travels. In general most people know what he is although he has been confused as a Yorkshire Terrier. Don't think you get many of those weighing in at 30 kilos!!!!!!
Sarah and Deefor
WOOF!
Hi,
We loved the site, so full of fun and insight into a dogs life. Will visit regularly.
I had Airedales as a child.
Take care, Ray and Brenda Wills

WOOF!
Hello there,
I've just gone on to your website, via Airedale webring. Your photo of three sunglasses what a hoot!!! I was sitting at my computer laughing out loud. I have shared my life with Airedales for the last twenty five years, and although they are are stubborn, wilful and generally a pain in the back-side, I just couldn't live without them! My current house-mate is Bolly, a rescue. Here's a picture of her (see our Airedale Gallery) Great website...I'll carry on browsing now...I just had to thank you for the photo that cheered up my day. Perhaps you'd like to look at my website...we could swap links if you like...it's
www.bollidogs.com
Regards, Linda (and Bolly)
WOOF!
Hello,
We have a question but first, we must compliment you on your website and your "You Tube" video.
Your website is terrific and it reflects how much you love your Airedales. We can certainly understand that. Since we just discovered your site moments ago, we haven't had sufficient time to cover it all. But we'll return soon and often. Great job!
Also we watched your video titled, "

Sybils Baby Airedales Step Out

." That is absolutely terrific. This is the most perfect timing for us to see that video because we'll be picking our Airedale puppy on March 1.
Expecting Airedale parents,
Bud & Sally Jean Wilson
WOOF!
Hello,
We are Harry and Cassidy from Wiltshire. I, Harry, am almost 11, and Cassidy the Crocodale is 5 months old. We love your site, the calendars had us in stitches! Basil, we should swap notes on achy joints and cataracts sometime! We have our own blog at

www.cassidytheairedale.blogspot.com

Feel free to swap links!
You can add this to your comments board!

Keep in touch!
Harry and Cassidy x
WOOF!
Excellent!!! being a dog lover myself i thought they were brill. I have also dressed my dogs ( german shep's ) and I find it so funny, your dogs obviously are very placid, I thought they were fab, I saw the story in Full House magazine and decided to look at your site. When I get a bit more time I will have another look at your dogs. They are stars.
Regards Cath Sheen
WOOF!
Good Day,
I have enjoyed browsing through your site, and I have linked my site to yours. Would you consider linking your site to mine??
Thanks in advance
WOOF!
Hello all you lovely doggie people,
I have owned two gorgeous Airedales called Jake and Winnie, and I absolutely adored them both!!! I didn't realise just how much I missed them until I saw your story in Full House!
I used to dress my doggies up too and I have some brilliant photos of them which I will send to you!
Keep up the good work!
Sandra

WOOF!
Hi,
I just found your site and have enjoyed the calendars, the videos - everything (especially the singing practice! :-), and am looking forward to the site developing. We are owned by Finni, he is our first Airedale (but I'm working on that!), a very sociable fellow who'd rather run off to find his walking buddies than have a treat and stay with us.
I'm going to put a link for your website on the www.Ragamuffinn.co.uk site if that's ok with you.

Best Wishes
Elke & Finni

WOOF!
Hi!
I just saw your cool Airedale video on YouTube... just wanted to drop you a note to say that you've got some really beautiful dogs!
I have a Dale too, his name is Bogart and he has a blog you & your dogs might enjoy: www.toaireisdivine.com
Thanks for sharing your Airedale videos!

All the Best,
Lulu & Bogart